This year too, OBA is planning to distribute nearly 250 ramadan dry ration hampers to needy students in the College.
Each dry ration pack comprises rice (10 kg), flour, dhal, sugar, milk powder, dates, pasta, canned tin fish, tea and rose syrup. Cost per pack will be around LKR 4500.
Ramadan is a month of giving Zakahlthul Fitra and Sadaqah. During this Holy Month, may we be blessed with many opportunities to donate, and help others
Any members who wish to contribute can kindly contact Jaufer Us Sadiq   (07777225664) at earliest convenience.
The Prophet (Peace be upon him) said: "Whoever feeds the person who is breaking his fast, he will have his reward (for his fasting) without decreasing anything from the reward of the fasting person." (Tirmidhi) 
May you and your families be included among those who receive the rewards of Ramadan.
May Allah make this Ramadan a source of blessing and opportunity for spiritual connection.
Have a blessed Ramadan.
Ramadan mubarak!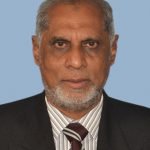 Fellow of the Institute of Management (UK) and Diploma holder in Journalism (UK). Author of the book, "Agony of Bosnia". Ex- Project Manager of the Gulf Catering in the Middle East.
Currently freelancing at a leading Muslim NGO in Colombo.