Zahira College during the golden era of Mahroom Azeez, was known as " A radiating centre for Islamic thought". During late 1970's, the standard of education fell down drastically due to various reasons.
During this bleak period, specifically in 2006, we stepped into the college with a vision to make Zahira, a truly great institution and to restore the lost glory of grandeur. By the grace of Allah, within a couple of years with determination and unwavering commitment, we started to develop the college.
When the school is getting better in shape more and more parents started admitting their children at Zahira. But unfortunately, as a school we can only accommodate 350 students for an year and we get almost 2000 applications for admission.
All the children deserve to get a decent education which will give them a fair chance to live a better life. Keeping this in mind, we were looking for solutions. This led us to look at the other Muslim schools in Colombo. The feasibility study revealed the sad reality that there are 17 Muslim schools, but not a single school is suitable for a child to get a sound education.
Since this is an alarming situation, Zahira OBA and Serendib School Development Found (SSDF) jointly started a mission to uplift these schools with the proven model of Zahira.
We identified Darussalam Maha Vidyalaya in Maligawatta as the most important and deserving school to uplift.
Maligawatte, a locality with a highly dense Muslim population in the District of Colombo is well known for its underworld activities but nobody has taken any major initiative even the state to address this issue. The locality is mostly comprised of low-income families who live a wretched hand-to-mouth existence, and their grinding hardships remain a grim reality for hundreds of thousands of similar Muslim families. The majority of men are working in informal sectors and holding jobs such as three-wheel driving and other such daily wage jobs. In addition to that, unemployment is rampant among the youth.
Furthermore, there are over 35,000 Muslim families living in ghettos without basic amenities at Maligawatte. Their standard of living, and specifically their access to quality educational is at a deplorable level due to lack of schools to cater for their children. Moreover, school dropouts here were disproportionately higher than other areas in Colombo.
Since the Darusalam Mahavidiyala is located in the middle of this community, it became so clear if we uplift the school, the results will cascade down to the surrounding community directly.
Initially, with the help of our friends, Zahira OBA members and well-wishers, we forged ahead with a major "Shramadana Campaign" in the Maligawatte area (https://latheeff.wordpress.com/2015/04/09/helping-applewatte-slum/). Afterwards, we enlisted 12 benefactors to construct 4 class rooms and conducted several worthwhile projects to improve the standard of the school.
In addition, recently with the collaboration of Zahira OBA, SSDF, WMO, SEF and Maligawatte Jumma Mosque Federation, Islamic centre, Sri Lanka police, Municipal council Members and four major religious groups were able to organise an English-medium commerce class for Maligawatte A/L students, and provided over 15 brand new Tabs to impoverished students in order to continue their online studies without any hindrance. And this is just the beginning!
Special appreciation should go to Memon Association of Sri Lanka and World Memon Organization to helping this initiation from the beginning.
Approval has now been granted to conduct further bi-lingual classes. We have also formulated a master plan to construct new science and IT labs.
The vision is to bring an educational renaissance to uplift the poor Maligawatte students in pursuit of excellence, and popularize the concept of "Maligawatte got talent."
Plans are afoot to re-name the Darusalam Maha Vidiyalaya to "Zahira Kattarama" with blessings from Zahira college, Colombo.
With due apology to William Shakespeare, "A Zahira by any other name would smell as sweet". Certainly, this will add a new dimension and lustre to the school like Gampola Zahira and Aluthgama Zahira. Hopefully, the surrounding areas of Maligawatte too will gradually improve.
By the grace of Allah, driven by an unyielding passion, we are confident that we will be able achieve the vision with the help of everyone. We appeal to you all to rally around this initative to make Darusalam Maha Vidiyalaya a model and contemporary school.
Challenges are a part of our lives. Creating opportunities out of challenges is the way that we should look at life. Let us all rise to face the challenges and find a new way to sustain a brighter future – that is what Zahira has taught us and that is what we would like to emulate.
Finally we would like to thank SSDF to coordinating all these efforts and shouldering from the beginning.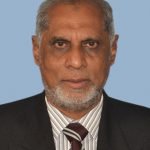 Fellow of the Institute of Management (UK) and Diploma holder in Journalism (UK). Author of the book, "Agony of Bosnia". Ex- Project Manager of the Gulf Catering in the Middle East.
Currently freelancing at a leading Muslim NGO in Colombo.