Learning has always been a never-ending process. One would complete his academics and assume that they are done with learning but that is not how learning works. Every day, every hour, every minute, and every second, we all learn something or the other. Something that we have not known before has now become useful and eased up our lives a little bit more. This is why learning is considered ageless and timeless.
We have always been taught to learn from one's failures and our own. But what we have not been taught is to learn from one's success. But what can you precisely learn from one's success? Or can you even learn from one's success? People definitely could learn from one's success but also get inspired and motivated to build up their very own success story.
Zahira College Colombo has always known for its excellence in guiding its students after their completion in academics. Even though Zahira is known for its effective career guidance programs in the present, back in the days during the early 2000's the school was not resourceful enough to educate and provide the students the proper guidance and counseling.
During that period, students chose paths that interested them, which they solely believed would benefit them. Fortunately, some resulted as anticipated while a few turned out as unexpected as it could be.
According to statistics and extensive research, it was identified, it is the lack of a career guidance counselor that has led students to fail in paths they choose for themselves. Fortunately for them, the Zahira College Old Boys Association has stepped in to make a difference.
The Zahira OBA has introduced a platform called 'Zahira Enable' to encourage and motivate its alumni from years between 2000 to 2020 to uplift their current status quo by achieving higher.
'Zahira Enable' is a talk show platform designed to ensure the upliftment of the status quo of old Zahirians by engaging in a voice-only session with other old Zahirians who have been successful in their chosen careers as well as lives. Furthermore, the talk show aims to inspire the old Zahirians who failed to write their success stories by enabling them to listen to old successful Zahirians.
The talk show was brought to life via the software named 'Clubhouse' and will continue to grow its audience with it. 'Clubhouse' in simple terms is an invitation-only social media app for iOS and Android in which users are enabled to communicate in voice chat rooms that host live discussions, with opportunities to participate through listening and speaking that can possibly accommodate groups of up to 5,000 people.
Zahira Enable initiated the first episode on the 28th of April 2021, unraveling inspiration from two of the most significant success stories of a Senior Manager in the industry of Healthcare, a Board of Governor of Zahira College, and the Vice President of Zahira OBA Dr. Safraz Saleem and the Chief Executive Officer of Inexis Consulting and a Cloud software architect Azwan Ameer.
The first episode brought about the focal points of 'Zahira Enable' and established a firm belief in the old Zahirians who have been looking for some inspiration to uplift their quality of life. Accordingly, the first episode of 'Zahira Enable' revolved around the following five areas of discussion,
What were you ambitious about while you were in school?
When did you decide to pursue the career you are in at present?
How has Zahira helped you to achieve what you are today?
What do you think is your secret to success?
What were the major turning points in your life?
The second episode of 'Zahira Enable' is scheduled to be held on the 26th of May 2021 on Clubhouse from 06 PM onwards. This upcoming episode brings about two other old Zahirians who are eager to share their success stories. Catch the Head of Technology Operations & Information Security at Pearson, Roshan Razik, and the COO – Bristol Institute of Business Management Pvt Ltd Managing Director – Icon Business School Pvt Ltd, Dilshad Jiffry.
The link for the next episode of 'Zahira Enable': https://www.joinclubhouse.com/event/m3lDNAkJ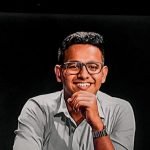 News Reporter and Journalist at MTV News 1st
Content Creator at The Scriptor.lk
Freelance Compere cum Emcee