The OBA, successfully conducted its traditional Iftar programme on Friday, 9th June 2017, at Bookers Reception Hall, with the Grace of Allah. It was a remarkable event that saw the hall being packed to capacity with overflowing invitees who represented every segment of Zahira's inter -groups.
The OBA's primary objective of hosting an annual Iftar, is to strengthen the spirit of brotherhood and fellowship among old Zahirians' and next year, Insha' Allah, plans are underway to host only one joint Iftar programme in collaboration with all inter-groups, on a grand scale.
Among the star-studded list of attendees were Mr. Trizvy Marikkar, the Principal of Zahira and Mr. Fouzel Hameed, Chairman of BOG who graced the occasion together with other prominent old Zahirians, including Sri Lanka's legendary football player of the golden era, M.A. Ameer.
The function started with 'Qirat' by Aleem Farook.
Sheikh Murshid gave an inspirational lecture on the essence and spirit of Ramadan and the roots of Islam, thereby emphasizing the positive mindset of a Muslim and the spiritual development / improvement of our self in all the different aspects and areas of our life. Sheikh Murshid's oration magnetized the audience as they listened in rapt attention.
After the call of Adhan sounded, Rasheed .M. Hafeel, a veteran broadcaster of SLBC's Muslim Programme fame, recited the dua upon breaking fast and its meaning, in Tamil. Soon afterwards, invitees congregated for Magrib prayer.
The aroma of the sumptuous dinner spread on the tables beckoned to everyone present to partake and enjoy the food in each other's' company, as swiftly as possible! A traditional Muslim dinner is incomplete without a bowl of wattlapam and a hot cup of coffee, and those two requisites were served as well in congenial atmosphere.
A vote of thanks was delivered by Akram Moulana, secretary of the OBA. He profusely thanked Mr. Azmi, the president of OBA, Mr. Arshad, Mr. Shiraz and the other enthusiastic Iftar committee members for their unstinting cooperation and commitments to make this event a crowning success.
The event was admirably compered by Mr. Nuzri Munsoor.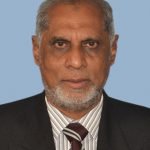 Fellow of the Institute of Management (UK) and Diploma holder in Journalism (UK). Author of the book, "Agony of Bosnia". Ex- Project Manager of the Gulf Catering in the Middle East.
Currently freelancing at a leading Muslim NGO in Colombo.