The OBA has a proud history spanning over 100 years, and has always been at the forefront, campaigning for matters relating to college development. A long-felt need of the college was the Sports Complex.
Towards fulfilling this need, an ambitious project was envisaged and initiated by Mr. Fouzul Hameed, Chairman of Board of Governors (BOG) who conceptualized – a state-of-the-art Sports Complex complete with fully-fledged facilities for indoor and outdoor sports (including a squash court, basketball court, badminton court, boxing arena, and allocated areas for riffle shooting, table tennis, and volleyball, among others) as well as an ultra-modern fitness center, meeting room, restaurants, cafes and children playing area under one roof, within the college premises.
The "Zahira Sports Complex" was initially launched during the 2014 Fellowship Dinner under the Chairmanship of Mr. Jisthy Fawmy. Owing to unforeseen circumstances, plus a staggering cost which came to around LKR 175 Million, the project was shelved.
The project was re-designed by a new architect where the cost was pruned down to around 100 million rupees.
The OBA with renewed vigor and determination collaborated with BOG, and successfully re-launched the project, with the foundation stone laying ceremony finally being held on the 8th October, 2020. Firoze Limited Chairman and Phoenix Ventures Limited Director Mohamed Haji Omar was the chief guest at this event, who in turn graciously pledged LKR 50 million.
To kick start the project, Mohamed Haji Omar handed over the aforesaid amount of LKR 50 million to the Principal, Mr. Trizviiy Marikkar on 19th of April, 2021. Chairman BOG, Mr. Fouzul Hammed, OBA President Mr. Alavi Mukthar, BOG Treasurer, Mr. M.S.M.Niyas and Project Chairman, Mr. Jisthy Fawmy graced the occasion as well.
In lieu with providing updates to members, we are pleased that everything is being streamlined in a transparent manner and the construction will be commenced in due course, inshaAllah.
Upon completion, the Sports Complex will be a jewel in the crown of Zahira and we will be at par with other elite schools like Royal and St. Thomas, and will certainly be second to none in academic and extracurricular activities.
Alhamdulillah, together with all our well-wishers' support, that day is not far to witness and our Alma Mater's Green, White and Maroon college flag will flutter high over the Sports Complex edifice in triumph.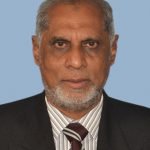 Fellow of the Institute of Management (UK) and Diploma holder in Journalism (UK). Author of the book, "Agony of Bosnia". Ex- Project Manager of the Gulf Catering in the Middle East.
Currently freelancing at a leading Muslim NGO in Colombo.