Zahira Veterans felicitated Ex National Football Player Naina Mohamed on his appointment as a Member of the Sri Lanka National Football Selection Committee recently.
The President of the Zahira Veterans Saharan Lafir presented a memento to the Naina Mohamed in the presence of Project Chairman Nazly Nizam and Irfan Alavi at the ceremony.
Naina Mohamed is a B. License Coach Asia Football Confederation (AFC) and Ex National Football Player in Sri Lanka.
He has coached Zahira College Junior Football Team 1993 to 1997 during that period the Junior Team became all Island champions twice
He has played for Zahira College Senior Football Team and thereafter he represented the York Sports Club in the Sri Lanka Premier League Division 1 from 1981 to 1997. Also he has played for the Sri Lanka National Team from 1983 to 1990.
Naina was a Former President of the Zahira College Old Boys Association and presently Chairman of the sports department Zahira College and Board of Governors of Zahira College Colombo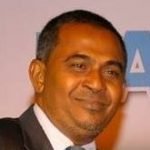 Freelance Journalist at ANCL Lake House. Correspondent of Colombo Times and Need News.
Former Correspondent of Lankadeepa and Wijaya Newspapers LTD. Appointed Justice of Peace.