12th AGM under the theme of New Normal – New Beginning
We are pleased to inform you that the 12th Annual General Meeting of our association was successfully held on 29th January 2021 under the theme of "New Beginning with the New Normal" with the participation of our members at Plazaa INN Hotel, Doha – Qatar. The meeting was kicked off with adoption of 11th Annual General Meeting minutes, General secretary report and financial statement for the year 2020 followed by outgoing President's speech and election of new committee for the year 2021.
Accordingly, Rizwan Uz Zaman was elected as the President, Mafaz Zubair was elected as the Hony. General Secretary and Ameen Badurdeen was elected as Hony. Treasurer for the year 2021 term.
Following the AGM, rest of the evening was filled with entertainment segment being a stage drama presented by our own members, appointment of captain, vice-captain and manager for our OBA's Cricket, Rugby, Football, bowling teams for the year 2021 seasons and felicitation of Mohamed Rizni Mohamed for his outstanding contributions rendered towards the success of our association. The event concluded with delivery of vote of thanks followed by High Tea.
I Support Education Scholarship Fund disbursement 2021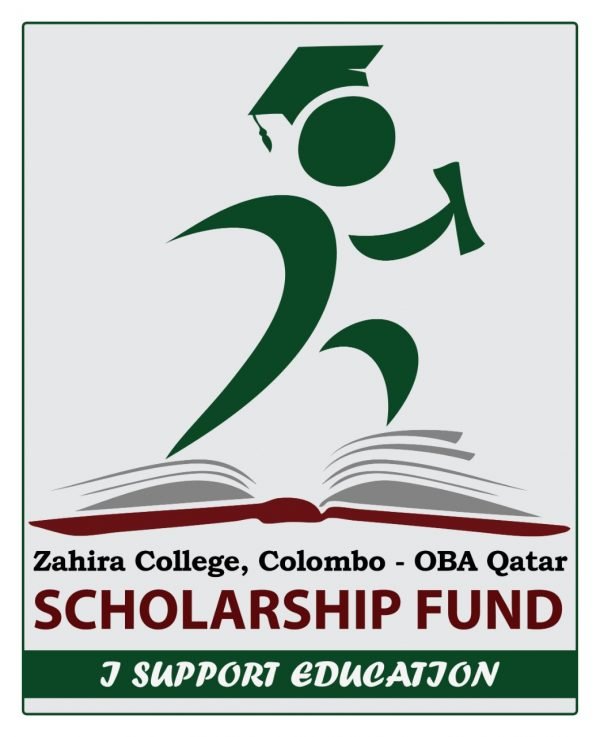 Research have shown that most of the students are dropping out their study's due to non-availability of sound financial means. Having understood the importance of education to the society, more importantly the current education standard of our college students, in year 2009 ZOBAQ had decided to form a scholarship fund with an aim to provide financial as well as non-financial assistance to needy, eligible, talented, and deserving students.
Financial Assistance includes settlement of previous academic year outstanding school fee as well current academic year's school fee in full and private tuition fees, etc. Further, Non -Financial Assistance includes provision of two sets of school uniforms, one pair of shoes, books and stationaries, etc.
I Support Education (ISE) is a key project and the backbone of OBA Qatar. Throughout these years our donors pay a key role in achieving our goals without any hindrance. Each year through ISE we have witnessed many lives changed and improved their social living. For the 2021 we have allocated QAR.15,300/- equivalent to Rs.830,000/- among 22 talented, needy, and deserving students. With this, we have disbursed a total of RS.8,600,000/- (Approximately) among 231 students since 2011.
10th Members' Annual Ifthar Program
We are pleased to announce that the 10th Annual Members Ifthar program (VIRTUALLY) was successfully held on 23rd April with an objective to foster interaction among our members and to assist "I Support Education" program. We have achieved yet another milestone in our associations' journey as this is the 10th as well as first ever virtual Ifthar program and delightful ifthar meal packs were delivered to the doorstep of our members and invitees.
Ramadan Hampers Distribution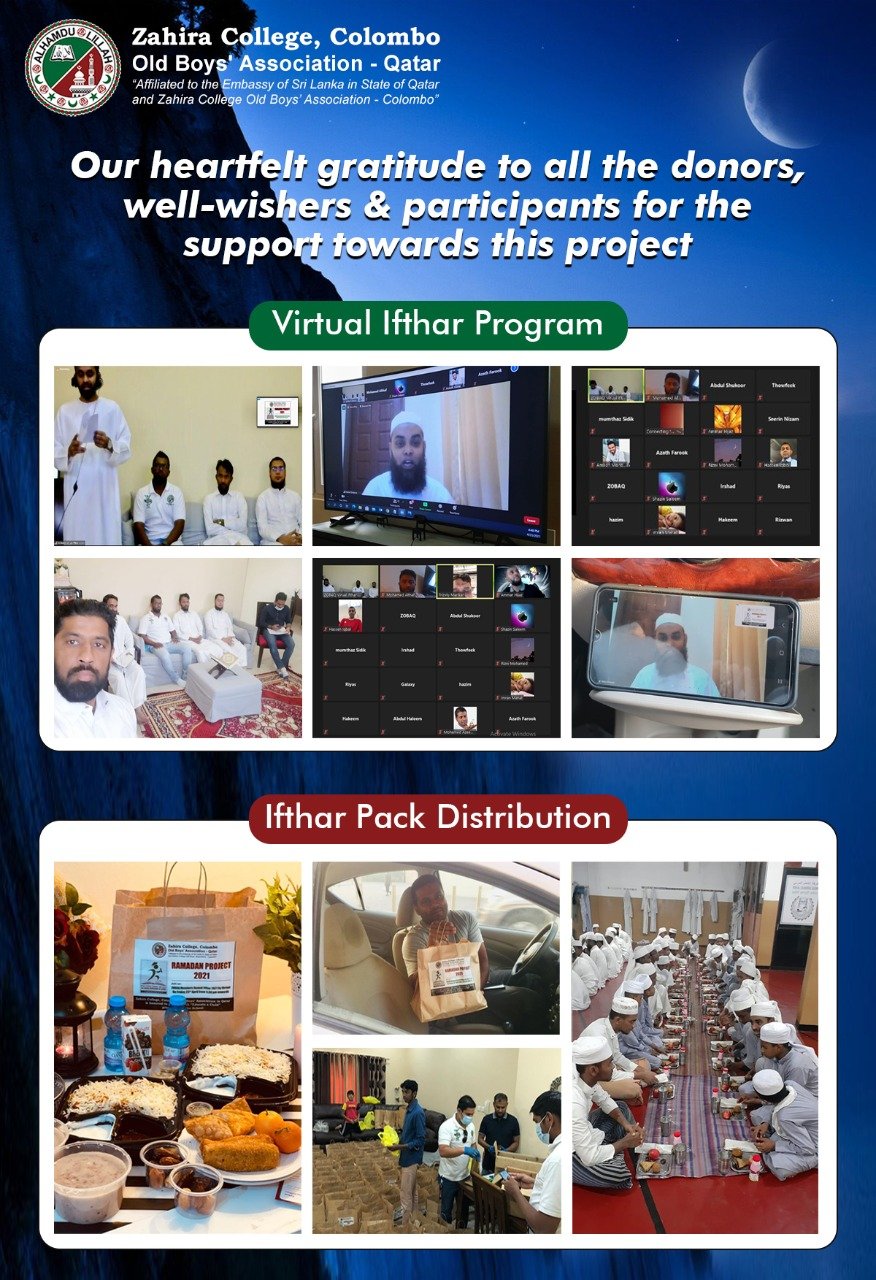 Coinciding with this year's Ramadan project, we successfully distributed "Ramadan Hampers" to our scholarship fund beneficiaries' families in Sri Lanka. A total of 30 families benefitted under this project.
ZOBAQ Kids' Competition
The competition was conducted with the motive to prepare kids for the month of Ramadhan and a total of 25 ZOBAQ members kids living in Doha and Sri Lanka took part in this competition.
Adults Quiz Competition
The online competition was held for consecutive eight days with the active participation of many of our members, non-members, and their families across the globe.
Sponsoring Ramadan Dry Ration Project initiated by OBA Colombo
Zahira College Colombo OBA Qatar sponsored for 10 packs (worth of Rs. 45,000/-) towards the said project, which was initiated by OBA Colombo to support needy students, minor staffs and deserving old boys' of our college.
Sponsorship for Sri Lanka Embassy in Qatar for the upgradation of Telephone
As part of Zahira College Colombo OBA Qatar's community reach out project, we extended a sponsorship amount of QAR.1,700/- (equivalent to Rs.92,000/-) for the upgradation of Telephone system of Sri Lanka Embassy in Qatar.
We take this opportunity to extend our heartfelt gratitude to all the members, their families, special invitees, sponsors, donors, well-wishers, and volunteers for their generous support. Special thanks to our executive committee members, I Support Education Committee members and Ifthar project team for their tremendous work to make these events a great success.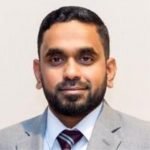 Founder Member, Past President and
Hony. General Secretary,
Zahira College, Colombo - OBA Qatar.