The much-anticipated OBA's Zahira Walk, which was an epoch-making event, took place on the 5th of August, 2017 at the College premises.
The Walk was commenced from the College entrance and proceeded through T.B. Jayah Mawatha, Lipton Circle, Horton Place and Borella – Maradana road. This mega event was planned by the OBA to commemorate 125 years of excellence in grandeur.
All the affiliated groups together with the parents, teachers and a galaxy of prominent old Zahirians, notably Hon. Minister Mr.Fowzie, Member of Parliament Mr. Mujibur Rahman, Ex-minister Mr.Azwar and Ambassador for Palestine, Mr. Fowzan graced the parade spanning 6 km, as they walked hand in hand exhibiting unflinching loyalty to their Alma Mater.
It was an exhilarating sight to witness as the procession brought together both old and young Zahirians' who jubilantly paraded the streets in colourful attire. The walk stretched from the College premises to the Eye Hospital junction, closely monitored and guided by alert OBA members who deftly managed the crowd.
A fleet of vehicles festooned with College flags – 20' containers, a double- decker bus, horse-carriages and latest model cars flanked the parade.
All affiliated groups displayed their chosen themes spectacularly and won spectator admiration for their creative skills and ingenuity. Notably, Group 2012, brought the longest School Flag in Sri Lanka, which stretched to 200 meters in length and created a new milestone in the history of both Zahira College and all other schools in the island. This record breaking feat was the cynosure amongst onlookers.
Be that as it may, despite meticulous planning and organizing and our best efforts to make things right, there were pitfalls and shortcomings, as is common in any event of such magnitude. We outsourced specially designed fabrics well in advance from India as material for the Walk T-Shirts. However, due to unforeseen circumstances, the supplier didn't dispatch it on time as per the agreement. Hence the consignment came late and the OBA frantically went from pillar to post to find a garment factory. With greatest difficulty, we were able to make approximately 5000 Walk T-Shirts and that too were delivered at the eleventh hour. Some of the OBA members applied leave and personally got involved and expedited the process. The pending ones will be distributed as well in due course.
Despite this, the Zahira Walk went ahead due to the OBA's untiring effort and resolve to make it happen. As the saying goes, No matter how you feel – get up, dress up, show up and never give up. That was precisely what the OBA did – We never gave up!
The Zahira Walk 2017 was on many scales a wonderful exhibition of Zahirian solidarity in more ways than one.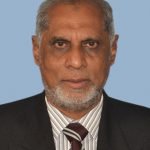 Fellow of the Institute of Management (UK) and Diploma holder in Journalism (UK). Author of the book, "Agony of Bosnia". Ex- Project Manager of the Gulf Catering in the Middle East.
Currently freelancing at a leading Muslim NGO in Colombo.