The OBA has a longstanding tradition of helping and assisting the college not only in the developmental aspect but also in promoting affinity and fraternity among its old members. The preamble of the constitution of the OBA declares its essence as a means to "foster unity and fellowship" amongst fellow Zairians'. True to its spirit, the OBA perpetually strives to extend an outstretched hand to fellow brethren in their hour of need.
Since the outbreak of the COVID-19 pandemic and its resultant travel restrictions which has been further extended until 21st June, we have all endured something which we probably would never have dreamed of witnessing in our lifetime.
The travel restrictions imposed by the government to restrict movement and limit human interaction has reduced economic activity, and this has adversely affected the needy and destitute who are now struggling more than ever, to survive without any means of sustenance.
The OBA under the guidance and direction from Mr. Fouzul Hameed , Chairman of BOG, has sprung into action to assist the less unfortunate old Zahirians' who feel helpless in the face of their widespread suffering and hardship.
Under the project chairmanship of Mr. Azhar Salahudeen, the OBA procured dry rations ( Rice, flour, sugar, powder milk, etc) and systematically distributed 200 packs to fellow Zahirians'and another 50 packs to deserving  current sportsmen  to ease their pangs of hunger, even while strictly adhering to all health guidelines and protocols enforced. 
It was a painstaking and challenging task to gather the food stuff at one point, and then to package it in a hygienic and orderly manner. 
To overcome the logistical problem to reach the recipient's destination, a private transport vehicle was outsourced. All in all, everything was carried out smoothly without any hitch, even though we faced limitations and challenges along the way. 
The team comprised of Azhar Salahudeen /  Ruzni / Jawfer-us Sadiq / NM Shiraz / Abdul Razak / Ifraz Kamil / Nazlee Nizam / Azwar Ismail and volunteers were Nadeem Sha /Shaker Salli and TA Rasiff (Zahira Veterans)The team worked tirelessly for 4 days in tandem for the successful operation .
In addition, OBA president Mr. Alavi, Immediate Past President, Mr. Naina Mohammed and Mr.Nuzri extended their unstinted cooperation .
This truly manifests the Zahirian spirit of amity and fraternity! 
May Almighty Allah richly bless all the benefactors with Barakah and Afiyah.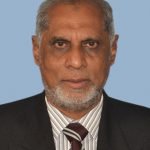 Fellow of the Institute of Management (UK) and Diploma holder in Journalism (UK). Author of the book, "Agony of Bosnia". Ex- Project Manager of the Gulf Catering in the Middle East.
Currently freelancing at a leading Muslim NGO in Colombo.