The Organizing committee of the OBA, under the co – chairmanships of Mr. Namiz and Shiraz organized an unforgettable day outing at Che Adventure Park at Kahatapitiya, Hanwella on Saturday, the 3rd of December, 2016.
Nearly 20 OBA Exco members participated at the outing, which provided everyone with an opportunity to relax and rejuvenate themselves. The outdoor games such as Rifle shooting, Archery, thrilling Aerial Rope and other fun filled ground activities were conducted by well-trained ex commandos of SL forces, and was keenly accepted and attended by all the members.
Besides adventurism, the value of team work and leadership qualities were practically reinforced by way of 45 minutes of boat rafting along the Kelani River, where Exco members overcame fear with zeal and displayed the spirit of togetherness and unity.
The members had a sumptuous barbeque dinner under melodious music and enjoyed the fellowship. After a hefty dinner, we went to our respective tents to relax
Shiraz too organized a number of events to make it more memorable. Special mention must be given to the Camp Fire, which provided each member the opportunity to introduce himself. In addition to that, a 20 minute Quiz programme was organized to sharpen mental alertness, at which the members participated enthusiastically and remained actively engrossed.
On Sunday morning, Mr. Hingston Lovell, President of Virtusa Toastmasters Club and Assistant Director Public Relation for District 82, conducted an inspiring Management and Leadership Training session for the OBA Exco members' and provided valuable tips on Public speaking, Time management and Leadership traits. Mr Hingston's memorable quote "I see something in you but I don't know what" still echoes in everyone's minds.
The culmination of the Outing was the distribution of awards to all winners of games including the Quiz program under the leadership of OBA President Mr. Azmi, and Mr. Namiz delivered the Vote of Thanks.
The CHE was truly an experience like no other, and will certainly linger in every OBA Exco members' minds for many moons to come!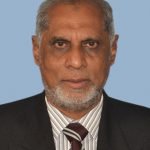 Fellow of the Institute of Management (UK) and Diploma holder in Journalism (UK). Author of the book, "Agony of Bosnia". Ex- Project Manager of the Gulf Catering in the Middle East.
Currently freelancing at a leading Muslim NGO in Colombo.